A Berg is a very large aerial vehicle employed by WICKED as transportation during the Maze Runner series. Bergs were also used by the Post-Flares Coalition to spread the Flare. Apparently, there was a large international fleet before the Sun Flares.
In the film adaptations, Bergs have two large helicopter-like blades on either side, with rotatable jet engines on the back that are pointed down when the craft lands. Bergs also have twin GAU-8/A miniguns located towards the front of the aircraft (as seen in the Death Cure film).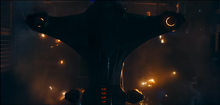 Known appearances
Trivia
"Berg" is German for mountain, possibly referring to the large size. To avoid misunderstandings, it is referred to as "Berk" in this language.