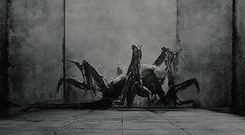 When you see Griever in the Maze, don't run away. It wants friends (okay, maybe soul too).
When it runs towards you it's only to tell you "Hi Shank" and possibly high-five. It's nothing terrible that it has 8 limbs.
If you start running away, it will start chasing you. It likes to run around the maze. So decide for yourself. Do you want to tire yourself running around the maze or have a eight-legged friend behind the wall of the Glade?
But remember. Although Griever looks like a hellish monster from the depths of hell, it is a very friendly beast and very sensitive at the same time. It is easy to offend. Then, however, it is better to run away wherever possible. But even that may not help then. The offended Griever will find you everywhere. It pops up everywhere.
So what? High five?